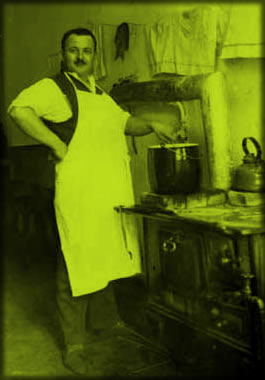 I was told to bring cookies to a New Year's Eve party last night, and there's really no bakery in my neighborhood that I know that makes good cookies. So I decided to bake some. I wasn't in the mood for my usual standbys, chocolate chip, basic butter cookies, or peanut butter cookies. I thought about making cookies with a jam center, but they seemed a little precious to me. After a search online for cookie recipes, I found something on
AllRecipes.com
, instructions on how to make
soft ginger snap cookies
.
The plan was to drink martinis at the party, so I figured ginger would go well with those cocktails. And I was intrigued by the "soft" part of the description. So the plan was a go.
Here's the basic recipe from the site:
Ingredients
1 1/2 cups butter softened
2 cups sugar
2 eggs
1/2 cup molasses
4 1/2 cups all-purpose flour
3 teaspoons baking soda
2 teaspoons ground cinnamon
1 teaspoon ground ginger
1 teaspoon ground cloves
1/2 teaspoon salt
1/2 teaspoon ground nutmeg
Additional sugar
Directions
In a mixing bowl, cream butter and sugar. Add eggs, one at a time, beating well after each addition. Beat in molasses. Combine the flour, baking soda, cinnamon, ginger, cloves, salt and nutmeg; gradually add to creamed mixture. Refrigerate for 1 hour or until dough is easy to handle.

Roll into 1-in. balls; roll in sugar. Place 2 in. apart on ungreased baking sheets. Bake at 350 degrees F for 8-12 minutes or until puffy and lightly browned. Cool for 1 minute before removing to wire racks.
However, the recipe as listed makes 66 cookies! Happily, AllRecipes has a handy-dandy portion calculator that allows you to put in the amount of servings you'd like, and it recalculates the ingredients for you. I put in 25 cookies, and it spat out the new amounts. This led to some strange sizes, like 7/8ths of an egg. But I figured it was close enough for my limited baking skills.
I also didn't know what "cream butter and sugar" meant, so that took a little research. It turns out that "cream" just means blend and aerate the butter with a mixer, and add the sugar slowly. Okay, I could do that.
So I went shopping. My crappy supermarket up here in Washington Heights didn't have any small bottles of ground ginger for sale, and I ended up having to buy a 10 OZ container of ginger! That's enormous. I'm set for ginger for life. I may have to search out other ginger recipes now because I am swimming in ginger.
Back at home, all the steps went fine, although I read "teaspoon" as "tablespoon" in my hurry and added too much baking soda, cinnamon, ginger, cloves, and nutmeg. I scooped out as much as I could once I realized the mistake, but I was now deep in inexactitude. Baking is a science!
I didn't have time to wait the full hour to refrigerate the dough -- I only had about 25 minutes to spare. But the semi-chilled dough was easy to manipulate, rolling it into balls and coating them with sugar.
The actual baking went fine, too. The trick, apparently, is to wait until the surface of each cookie cracks. I think I did this right.
This is what they're
supposed
to look like (from AllRecipes):
Mine looked more like this (also from AllRecipes):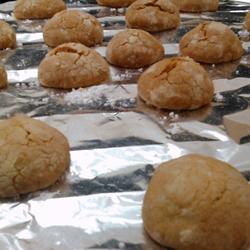 Oh, well. I don't know why mine didn't flatten out. The recipe says to cook until they're cracked and puffy, but mine stayed puffy. Perhaps that was because of my error with the baking soda. Anyway, they tasted good. Too much spice in them -- kind of a wallop of spice, actually -- but otherwise pretty tasty. If I ever try them again, I'll be more exact with the spice measurements!
Now I just have to figure out what to do with all this ground ginger.