Starchitects
Butt Johnson
, one of my favorite artists in the world, both personally and creatively, is having his first solo show, entitled
The Name of the Rose
, at the
CRG Gallery
in Chelsea, NY from January 14, 2011 to February 19, 2011, with an opening reception on January 14, 2011 from 6-8 PM. I'm definitely going to be there.
Butt Johnson's current medium is ballpoint pen on paper, and both his small- and large-scale drawings are intricately detailed (some would say to the point of obsessiveness, recalling the almost lost art of engraving) and gorgeous. Quite a few of them reference the works of Old Masters, but with modern pop-culture content, raising the commonplace subject matter to iconic status, or re-contextualizing the familiar objects as historical, even archeological remnants of a lost society. Playing with the nostalgia of the near past, Butt Johnson sometimes pushes the objects into the distant past, where they resonate with longing (and humor) and elevate the detritus of our disposable culture to
momento mori
.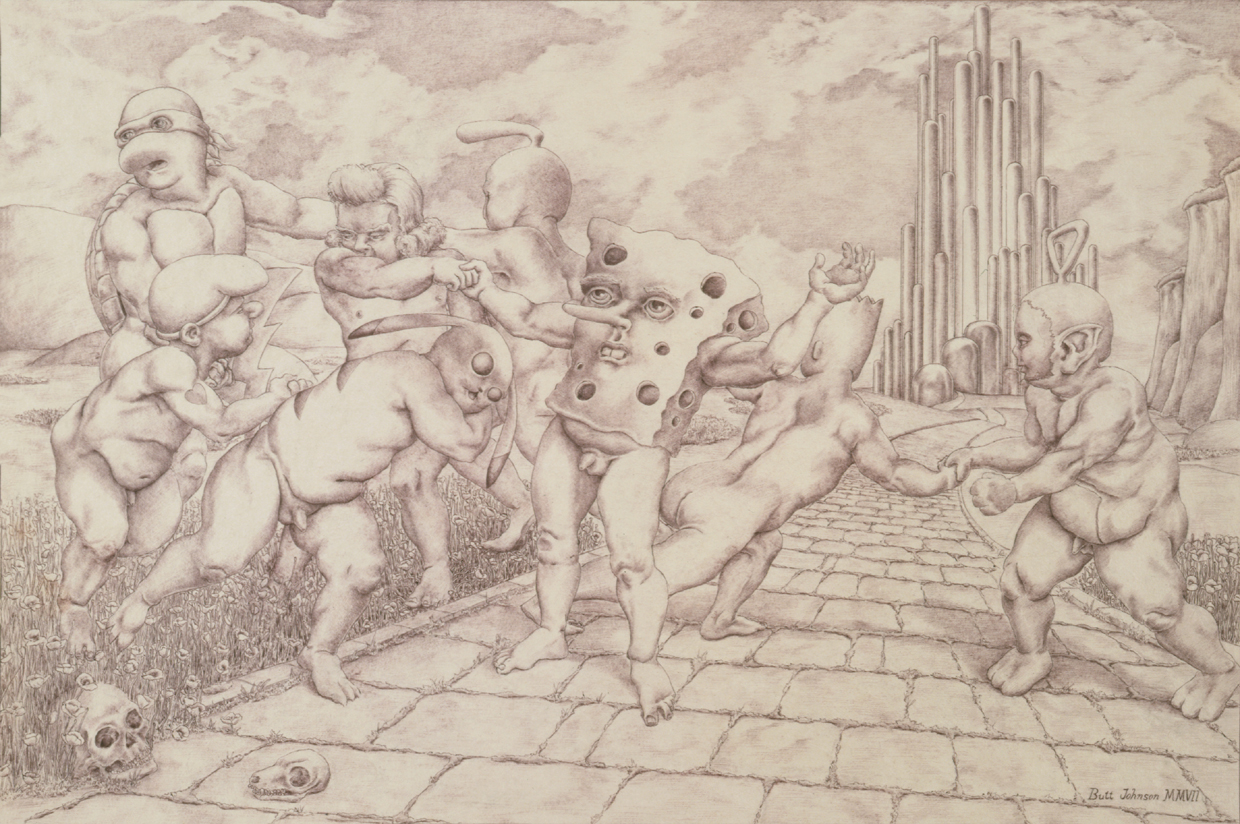 Et in Arcadia Ego
These illustrations work as the darkest kind of joke, even more bleakly evocative and hilarious because of the intense formalist craftsmanship on display.
Other works showcase culture clashes in fragmented still lives, blending Islamic flourishes with French, Spirograph, and Victorian patterns and gorgeously rendered flowers to create a disorienting, shifting blend that reflects our increasingly global worldview, while also tackling the bloody, violent, and explosive acts of terror that attempt at melding has fomented on the world stage.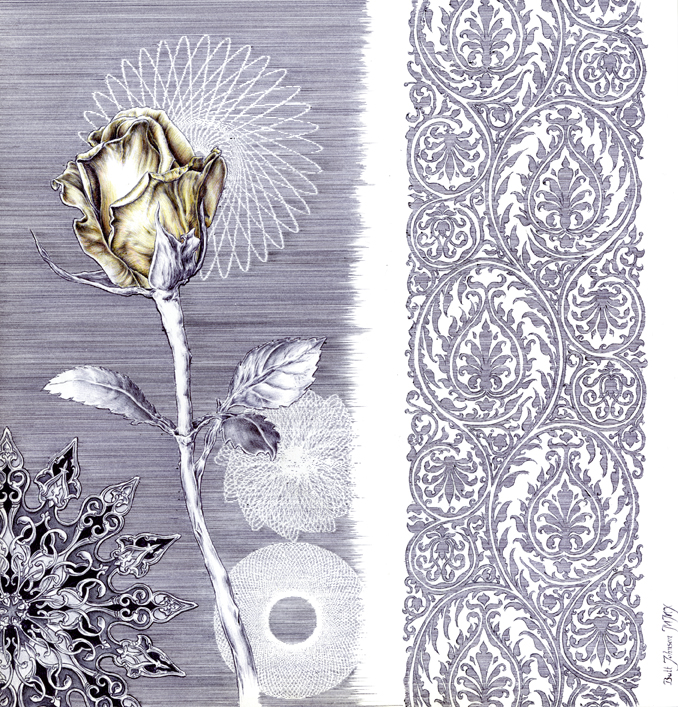 Untitled Floral Pastiche IV (Rose)
The most common first question first-time viewers ask when viewing Johnson's work is, "How long did that
take
?" A big part of the charm and impressiveness of the drawings is the obvious painstaking effort that has gone into creating these unique and beautiful objects -- the degree of difficulty of the work only increases the art's potency, drama, and, perhaps especially, humor. That so much time, care, thought, and art-historical context have gone into these representations suffuses each illustration with the bejeweled shimmer of significance, despite and also because of the contrapuntal mundanity of some of the subject matter.
I adore it all. Go see the show.