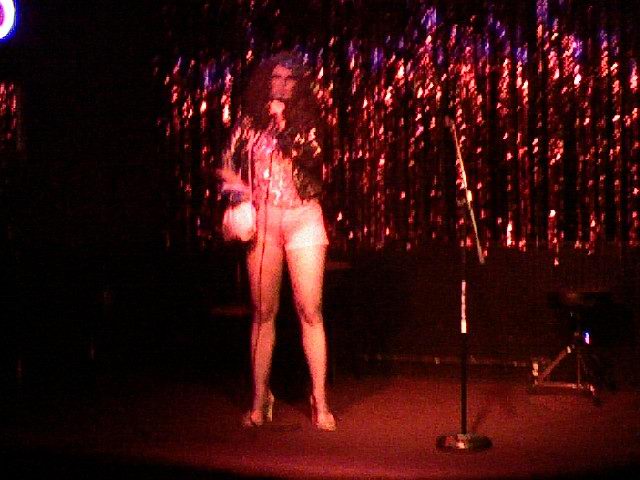 Lubka,

off tha hizzook

, as always.
Tonight I decided to clean out the backlog of photos on my cell phone. Most of them I just deleted, but four of them were unusual enough to share. I have to say, though, that my phone takes very . . .
impressionistic
photos.
The first dates all the way back to early January when I went to see
Margaret Dodge
host her sadly now-defunct comedy night
Dodge City
at the Parkside Lounge in the deep East Village. Imagine my pleasure when I found the night was actually to be hosted by
Lubka Bubkova
, the renown cosmetologist/professor/pageant coach/swinger from Minsk! It was a fabulous, hilarious evening, and I even won a commemorative tampon for answering one of Lubka's quiz questions correctly.
Old New York
Our second phone photo this evening is of a plaque that hangs on the front outside wall of the
Jefferson Market branch of the New York Public Library
. If you can't see the name of the Commissioner of the Department of Public Works, click the plaque image to enlarge it.
The commissioner's name is Eugene E. Hult.
He was my grandfather.
My library.
My full name, rarely used, is Eugene E. Hult III. I think it's particularly poignant that the renovation of this gorgeous building, rescued from the wrecking ball to be reinvigorated as a public library, was completed in 1967, and my grandfather died of a heart attack in 1968. He was only in his early 50s when his heart gave out on stage while he was giving a speech.
I never met Eugene E. Hult, Sr., as I was born in 1969.
So I've always viewed this library, which is very close to my apartment, with a certain amount of pride and ownership. To me, the library stands as a reminder that my name can be used for worthwhile things, and I'm very pleased that a few of the books I've written can be found in the stacks in the Young Adult section inside the library.
Danger!
I snapped this third picture back in early June, returning from a visit to Denver, while I was waiting for my luggage to toddle around the baggage carousel at LaGuardia Airport. It's quite graphic, no? I was personally afraid to put my hands anywhere near that rickety conveyor belt. Although the blood drops are artfully arranged, somehow I think there would be considerably more blood spurting out, and I doubt that your newly-discrete fingertips would be arrayed so precisely.
A chicken, perhaps?
Keeping it gruesome, in mid-July, I was walking along Washington Square West in the early AM on my way home from a particularly bad (and abortive) tryst, and I spotted this fetal bird on the sidewalk in front of the
NYU dorm Hayden Hall
, where I had lived during my Senior Year. There weren't any eggshells nearby. Why was a bird fetus dead by the park? Had it fallen out of a tree? Off a truck? Had some student found it in a sandwich? Quite mysterious and disturbing.