New backyard view, March 2008
A week or so ago, I opened my curtains for the first time in a long time, and saw that
Donald Trump's new SoHo condo/hotel
, on Spring St. and Varick St., had eaten a big chunk of my visible sky.
When you live on the second floor facing a courtyard, sky is a valuable commodity. I get barely any light in my apartment anyway, and the little patch of blue I used to be able to see was pretty minimal as it was. Now it's going to have a new glass tower blocking a big chunk of it. Bummer.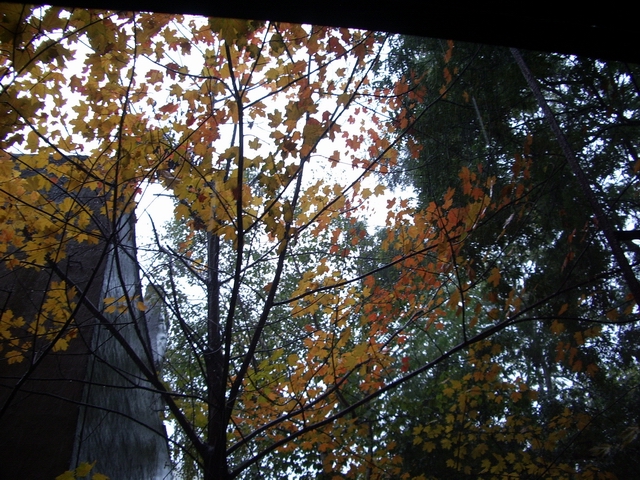 My view in October 2006.
I wonder how this is going to affect my light levels in the spring and summer. I generally lose any direct sunlight in any season except winter, because the tree canopy gets so thick that it filters all the light. In deep summer, the leaves are so dense that the light I get is a dim green color by the time it reaches me. I hope this tower doesn't make that even worse. The trees are gorgeous, especially in autumn, but nobody would call my place "bright" as it is.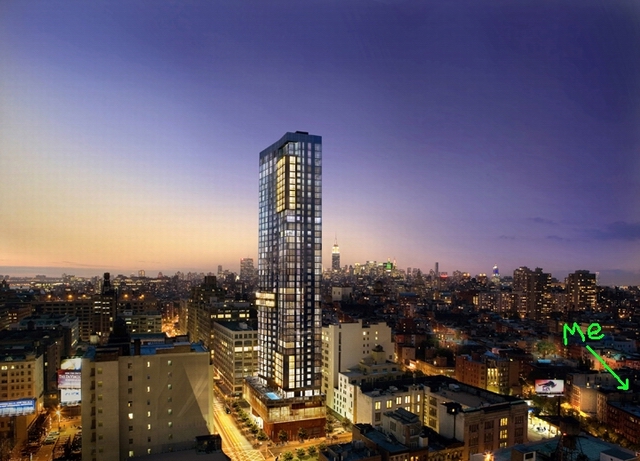 An artist's rendering of the completed tower.
The condo/hotel probably will be a good thing for that stretch of Varick St., which was rather dead and forgotten, and even a little sketchy a night. It's the fact that Trump built a glass tower that unnerves me. One of things I like best about SoHo is the human scale of this neighborhood, the old-world European feel of this small town within a city, the beautiful masonry and antique iron, the cobblestone streets and rough-hewn cornerstones. Glass and steel is a new flavor, and not quite welcome. This isn't midtown. This isn't Dallas. This is SoHo.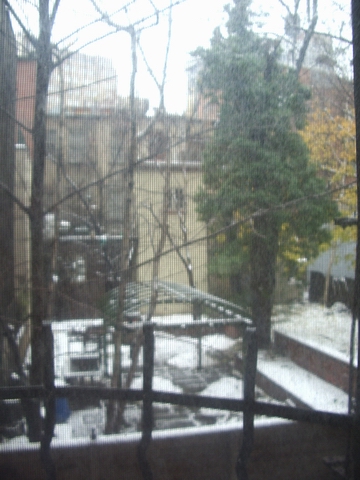 My view in December 2005.
A wide swath of Spring St. and Prince St. are already taken up by the world's most expensive outdoor shopping mall, filled with flagship designer stores and thronged with hordes of tourists on the weekends. My section has been a lot more low-key, just old tenements and Italian restaurants, with the occasional dog grooming salon and dry cleaner. I'm hoping the mall doesn't extend further west to connect to Trump's hotel. But it sure might.
When discussing your living situation in NYC, one of the big questions is, "Do you have a view?" Yes, I had a view of a cute, tree-lined courtyard, and a small slice of sky. Now I also have a view of a basic glass tower.
Trumped.
I wonder if the inhabitants of the condo/hotel will be able to see me.
Maybe I should invest in a telescope so I can spy into this new wealthy aerie. Hmm... now there's a thought!